July 16, 2022
Limited Edition "Pane e Cioccolato"
On National Ice Cream Day, July 17th Only, Enjoy our Limited Edition "Pane e Cioccolato" Flavor!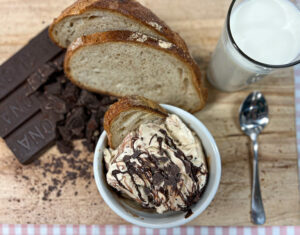 For this special occasion, our Maestro Gelatiere is going to create a limited edition gelato flavor, PANE e CIOCCOLATO (bread and chocolate).
In Italy one of the best traditional snacks for children is bread and chocolate. A simple slice of bread with a chocolate bar on it: this is an excellent treat for a very simple and delicious snack, full of energy.
On the other hand, simple ingredients, when they are of excellent quality, really give the best results. Bread and chocolate is undoubtedly a snack much loved by children, as well as adults.
Moreover, chocolate is an antioxidant, a natural anti-stress, helps against mood declines, and is also beneficial for the cardiovascular system.
National Ice Cream Day – July 17th
Thanks to President Reagan, we celebrate National Ice Cream Day every third Sunday in July, meaning July 17 this year.
Reagan wanted to commemorate a treat enjoyed by over 90 percent of the US population. In 1984, he decreed a day for ice cream, and his proclamation actually glorified the dairy industry in America. In fact, Americans still lead the world when it comes to eating this frozen delight: 23 gallons a year to be precise.
Reagan also proclaimed July as National Ice Cream month, describing ice cream as ''a nutritious and wholesome food enjoyed by over ninety percent of the people in the United States.'' Since then, the holiday has sparked worldwide cravings and is traditionally celebrated year after year.
Standing in the frozen food aisle trying desperately to make a choice? Or brainstorming how to celebrate this fabulous day? Well, look no further. Inspiration has arrived. Join Us at L'Arte del Gelato and you'll enjoy a very special Signature Flavor inspired by the most genuine and adorable Italian Tradition!
If you are thinking about ordering a Pane e Cioccolato pint today,
just click here​! ​
See our complete July Flavors online here.