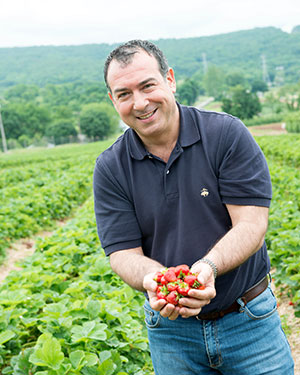 I am Francesco Realmuto, owner and founder of L'Arte del Gelato, a New York based company with a Sicilian heart, serving traditional artisanal and authentic Gelato in Manhtattan since 2005.
I was born in a small Sicilian town, not far from Palermo, named Baucina. The few hundred inhabitants out there seem to have travelled in time from an ancient world, as they keep that welcoming and simple lifestyle for which Italy is still worldwide renown. After schooling and military service, it was clear that unfortunately my little town offered few job opportunities. So, fueled perhaps by the same American Dream that over the years had enticed countless Sicilian families, I set off for the United States.
I soon found a job as a diamond cutter, and toiled away at that trade for 12 years until I realized I was somehow completely unfulfilled. Happy memories of my childhood made me think that my discontent may have something to do with my Italian heritage and I sensed a desire to relive it and share it with others. Which better way to recall our traditions and our culture than food? Thus my decision to change my life and to take up a career that was so very dear to me: the good, wholesome, traditional Italian food.
Memories brought me back to my childhood summers, the moment of the year I loved the most, along with the opportunity they offered to meet friends and relatives once a year. Each summer, I delved into the Sicilian landscape the same way I would plunge myself into the sea: there was no water there, just narrow streets with no cars, where to play along and run. Vineyard, olive trees and vegetables fields were the best place where to role play with friends: we could spend the whole day outdoor. Time was punctuated by small rituals: we met in the main square, we counted each other, we arranged the teams according to the day's game. Eventually … it was time for gelato! Time to rest for a while, cheers, and have a snack. I believe the smirk of a boy eating his gelato is the true symbol of happiness: it reminds me of the astonishment of the snow's flavor tasted for the first time.

L'Arte del Gelato was born out of my commitment to producing an artisanal gelato in line with the Italian tradition – a fresh, all-natural product made from the highest quality ingredients. I took my inspiration from the famous Italian Gelaterie born in the early 70's, that still continue to draw customers' appreciation from all over the world. Just as they were the symbol of the great economic rebirth and promise of post-war Italian prosperity, today we strive to symbolize an authentic, all-natural, and of course delicious product and state of mind.
I've selected glamorous NYC locations for our retail shops: you'll find us when exploring the numerous stalls and booths of Chelsea Market or admiring the architecture of the stunning Oculus at the World Trade Center, adjacent to the Ground Zero memorial. Grab a cone right before watching a play at the Lincoln Center in the Upper West Side, or admire the breathtaking view on the very top of the High Line with a coppetta in your hands. Additionally, we will delight your taste buds even while you're experiencing the amazing cultural life in NYC: our Italian Gelato carts are located right inside the Metropolitan Museum, the Natural History Museum and the Guggenheim Museum.