A brief history of the most famous Italian dessert ever
The history of gelato has been told many times, but we can't help keeping up with tradition that says it was born in Sicily, for our story was born there, too.
Sicily is a land where cookery has always hit it big, thanks to the genuineness of its products, or to the variety of fruits and vegetables. Its climate is indeed known as one of the most favorable in the world: the Mediterranean one.
The story of Gelato is a story of snow and salt. In Sicily, Arabs of the VIII Century, were used to chill some food (mainly crushed fruit beverages) in large bowls surrounded by ice and salt: that was the Sorbetto.
That was just the beginning of a long route that had its real feat in the 1500s, when newly arrived raw ingredients from the new World entered Europe: fruit, herbs and spices, cocoa. Then almost everyone knows that at the end of the 1600s, a Sicilian chef named Francesco Procopio de' Coltelli studied, tested, prepared and measured out a mixture that can be considered the first Gelato, the way we know it today.
A truly Italian veneration for culinary excellence
Technologies and research improved since then, and although our laboratory takes advantage of their best, we want to keep the traditional product features unchanged: all natural ingredients, respect for clients and high sanitary standards are what we care for the most.
Every day we work with enthusiasm to produce an artisanal gelato in full respect of the Italian tradition. Our commitment is to offer a genuine, all natural product, made from top ingredients, fresh every day. We work in close daily contact with the producers of raw materials, always checking to make sure of the best quality.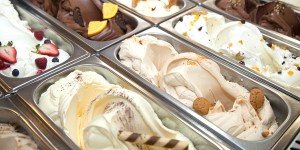 We sell our artisanal gelato in coppetta or cono, the classic Italian one. Our flavors are made fresh every day, genuine and supervised. This is the way we make it: just a small bunch of excellent raw materials we source straight from the best producers, either local or Italian. Our flavor list follows in the footsteps of the most classical Italian tradition.
Our artisan gelato speaks Sicilian!
You can match it with the most classical fresh baked brioche or savor it in a coppetta or cono. You can also pick up a bit more of it and bring it home. Gelato is made to be shared! Our flavors – cream and fruit – are fresh every day, genuine and supervised.
Old style gelateria: tribute to our heritage
We take our inspiration from the gelaterias of the '70's, which were a beacon and symbol of Italian post-war prosperity. Our cheerful design is true to the artful beauty of that time.