August 18, 2021
Limoncello!
It is the most famous among the Italian liqueurs: and today it's a new gelato flavor at L'Arte del Gelato!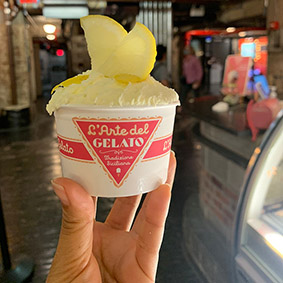 King of aperitifs and after meals: limoncello needs no introduction. And it is so famous that it boasts numerous legends about its history. The liqueur was born in the early 1900s, in a small guesthouse on the Blue Island. Here, according to tradition, Mrs. Maria Antonia Farace had a lavish garden of lemons and oranges. After the war, her grandson opened a restaurant right next to Axel Munte's villa. The specialty of his bar was a lemon liqueur made with his old grandmother's recipe. In 1988, his son Massimo Canale as well started a small artisan production of limoncello, registering the brand.
Limoncello between myth and reality!
Even in Sorrento and Amalfi, legends and tales about the production of the traditional yellow liqueur spread. In Amalfi, there are those who claim that the liqueur has very ancient origins, almost linked to the cultivation of lemons. Some say that limoncello was used by fishermen and farmers in the morning to fight the cold, back in the days of the invasion of Saracens. Many others state that the recipe was born inside a monastic convent to delight the friars between the daily prayers.
The traditional "yellow liqueur" has crossed borders for decades, conquering markets all over the world. Bottles of limoncello are on the shelves of overseas markets, and new important commercial scenarios are developing on Asian markets. To defend against imitations, producers secured the denomination of Protected Geographical Indication (PGI) for the production of the characteristic Sorrento "oval" lemon. The original Sorrento lemon must be produced in one of the municipalities in the area that goes from Vico Equense to Massa Lubrense and on the island of Capri.
The secret of Limoncello!
The secret of limoncello? In addition to Sorrento lemons, it is actually the refrigerator! It is a matter of degrees when the lemon liqueur becomes limoncello: at low temperatures the sweet taste is surrounded by the freshness that enhances the citrus aroma and which constitutes its unrepeatable peculiarity.
Recipe!
Here's how to prepare Limoncello at home. Lemons, preferably harvested at dawn when the aromas are more concentrated, are washed and sliced in very thin peels, paying attention to eliminate the pulp which gives the liqueur an annoying hint of bitterness for the mouth. The slices remain in infusion in pure alcohol for 48 to 72 hours. Then a syrup of water and sugar is added and filtered. In the end, the alcohol is, depending on the proportions of water and sugar, between 30 and 50 degrees.

Trivia!
American Hollywood actor Danny DeVito loves Limoncello so much that he had it produced under his own brand: "Limoncello Premium Danny DeVito".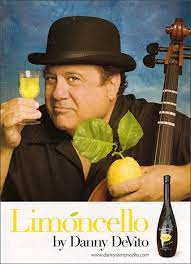 If you are thinking about ordering a Limoncello gelato pint today,
just click here​! ​
See our complete August Flavors online here.